More on this later, but I'm about to launch a Kickstarter (with
Jeff Green
) to "port" the groundbreaking (and award-winning) CD-ROM title "
Midnight Stranger
" from its 1995 technological roots (Macromedia Director running on Windows 95... it won't run on anything newer than Windows/XP without an emulator) onto modern systems, specifically anything that can render HTML5 canvases and video. This is the first semi-public (my blog is an Internet backwater that nobody seems to notice, heh) unveiling of the proof-of-concept I wrote to prove it could be done. At the time Midnight Stranger was released, DVDs didn't exist and with the technology at the time you could only fit around 6 minutes of crappy video onto a CD-ROM... hardly enough for an immersive or engaging experience. The solution is a bit cheesy, but the limitations are soon forgotten (from my experience and watching others): instead of full-frame video, a background image is used and little videos overtop that background image are used for people's heads or other movements. It is quite funny looking now, but over an hour of video could then be put on a single CD-ROM and allow for the telling of complex stories with the very limited computer capabilities at the time. While we're way past this now, it it still engaging on the desktop, and the format works for mobile devices because the bandwidth required is so, so much less than doing full-frame video. Where it really shines is in the use of a novel interface called the Mood Bar, where you respond emotionally rather than analytically.
I think this recollection of Jeff's sums it up best:
When this production was first premiered at Macworld in San Fransisco, despite appearing there in a 4-foot booth with a single 18-inch poster and presented on the smallest desktop Macintosh of the time with discount bin headphones, and situated only forty feet from a million-dollar Sony booth with 30-foot screens and live actors, Midnight Stranger consistently had large crowds and a 30-minute wait-time for just a few minutes of interaction. It became clear that for those for whom this form was well-suited, it gave the opportunity to achieve a significant sense of virtuality; the combination of eye contact, immersive sound, and the onscreen person's apparent response to their 'input' being sufficient engagement to facilitate periods of true suspension of disbelief — the holy grail of media.
As it stands, my demo is only two levels deep and it just repeats (and yes, it's a partial scene pulled from Midnight Stranger). It starts with the background image and you need to make a Mood Bar selection. That launches a video. If you choose wisely, you will be presented with another Mood Bar choice (if you don't choose wisely, you wind up back at the picture and can try again). The second mood bar has 3 choices, a movie runs, and then you wind up back at the picture and can do it all again. The menu and help buttons "work" now (they just report being pressed for now... any functionality can be added later). For me, it worked on Firefox, on Pale Moon (a fork of Firefox), and on Chrome. It did not work on my old LG mobile phone or the default browser for my Ubislate 3G7 (ultra cheap) tablet, but the video did work on the Pale Moon for Android browser on said-same Ubislate (I'm not sure if the audio was working, so that might be a problem). If you get a chance to try it, please let me know how it works out for you (any information on what operating system and/or device and/or browser you were using, and how it worked or didn't, would be really helpful). More work will continue to be done to get it working on more devices, but this was enough for us to be confident we could do it. Fyi, my previous post was me digging into ways of making it run on more systems... the initial proof-of-concept was written months ago when we were first wondering whether it could be done. At the time, it would only run on Chrome, but this latest (as stated above) runs on at least two browser families ;).
Click on the image to open the demo in a new tab: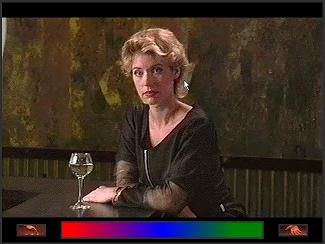 Here's the Kickstarter info should you be so inclined to take a sneak-peek at what's coming up. I've been told the bio-video is particularly entertaining (somewhat at my expense, but... it's an interesting way to present some of my resume, heh):
Obeing Kickstarter Information