I don't always go to academic conferences, but when I do we mosh to A Tribe Called Red!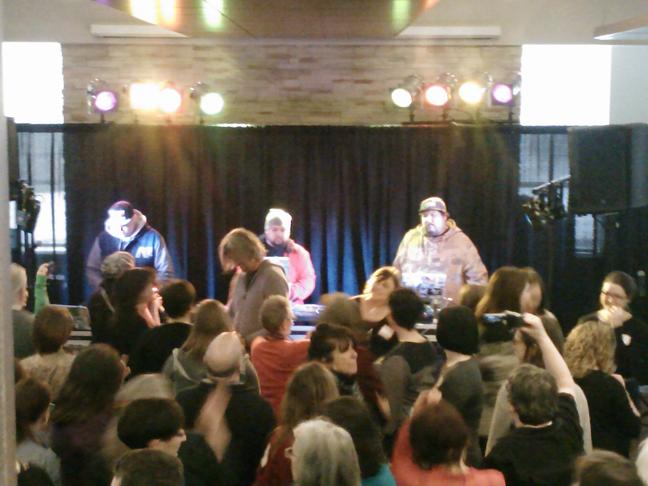 New Sun Conference on Aboriginal Arts was today. Presenters included (in order of appearance) Sandra Laronde (Director, Indigenous Arts, The Banff Centre; Artistic Director, Red Sky Performance ... seriously, check out
Red Sky Performance
!!!),
Michael Kusugak
(Children's author, storyteller... wrote the classic "A Promise Is A Promise" with Robert Munsch and, more recently, "T Is For Territories"),
Meryl McMaster
(Photo artist... mind blowing),
A Tribe Called Red
(Electric Pow Wow DJ/Producer crew... the website has free music downloads) in performance, Jean LaRose (CEO,
Aboriginal Peoples Television Network
), and then A Tribe Called Red in an extended Q&A session.
Lunch consisted of warm bannock bread with maple butter and strawberry jam, bitter and sweet greens (baby lettuce, spinach, rocket, and watercress) mixed with Saskatoon berries and stone cherries served with wild honey mustard vinaigrette, grilled vegetables and artichoke hearts in balsamic olive oil vinaigrette topped with spicy pumpkin seed, black and red wild rice with sauteed kale and Swiss chard, roasted Yukon gold potatoes and sweet yams with fresh thyme and rosemary topped with caramelized onions and crisp lardon, corn syrup and molasses glazed root vegetables, pan fried halibut topped with little neck clams in saffron wild mushroom fumet, buffalo and beef lima bean ragout, pumpkin cheesecake with maple caramel sauce, and field and Saskatoon berry crumble served with vanilla pod crème fraiche.
Need I say, yum?
With regard to the conference proper, it was considerably less emotionally charged than last year's just because of the presenters they had, but it had a very powerful and positive message throughout. To paraphrase Franklin, natives are doin' it for themselves!