pheloniusfriar
I am still waiting for the Senate at Carleton University to grant me my B.Sc. Honours in Theoretical Physics (it usually happens at the end of May from what I understand), but I have gone ahead and applied for admission into the B.A. Honours Women's and Gender Studies programme, which should take about 2 weeks and will apparently be in time for the summer semester even though it has begun (I visited the Admissions Office this morning and that's their story and they're sticking to it). As soon as I'm accepted, I will apply to graduate in the fall as I have already completed all the requirements (to my knowledge). I am a broken man on a Halifax pier (and it has been more than 6 years since I sailed away), but it is a consolation that I survived (last year, there was some serious uncertainty) and the amount of time I spent in total is reflected in the multiple results (not my intent at all when I started, fyi).
I am now starting on life number eight (humans get about eleven, unlike cats, phew), at least per one of my favourite comics of all time, from Saturday Morning Breakfast Cereal (there is much more to it than I repeat here to illustrate the points, so it's worth checking out):
http://www.smbc-comics.com/?id=2722
Here is something true: one day you will be dead.
Here is something false: you only live once.
It takes about 7 years to master something.
If you live to be 88, after age 11, you have 11 opportunities to be great at something.
These are your lifetimes.

Most people never let themselves die.
Some are afraid of death.
Some think they are already ghosts.
But you have many lives.

Spend a life writing poems.
Spend another building things.
Spend a life looking for facts,
and another looking for truth.

These are your lifetimes. Use them!
Which also reminds me of the final monologue in the movie Sucker Punch:
https://youtu.be/s0tAif5OT1Q
And it also has a tinge to it of another comic that I have had pinned to the corkboard in my kitchen for years that I read at least once a week so I never forget (click on it to go to the page it is from):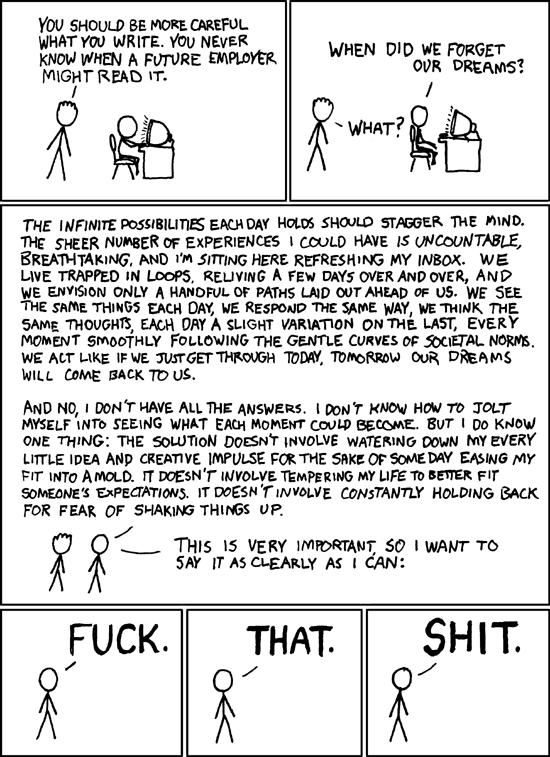 I just found out that a very good friend had her visa application to teach in China approved last night and she will be leaving for over a year to do something that is utterly out of her comfort zone. She is a hero to me because she is starting a whole new life, and it is a beautiful and terrifying and magical thing to behold. And yes, I do plan to take her up on her offer to come visit her while she is there... I have never been to China.